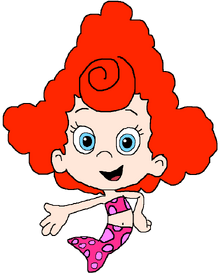 Akane
Have an image of this character?
Then please upload it!
Name
Akane
A/K/A
The Comedian
Age
6
Dislikes
People being sad, being pranked, sadness, her friends fighting/arguing
Gender
Female
Favorite Thing to Do
Telling jokes, putting on shows, entertaining
Voice Actor
Grey DeLisle-Griffin
Character Info
[
]
Her name is Akane. Her best friends are Lilac, Fuchsia, Azure and Saffron. Her main love interest is Azure. Her color is red.
Looks
[
]
Akane has large, poofy red hair with a large swirly bang. She has light skin and light blue eyes. Her tail and top are magenta with pink spots.
Personality
[
]
Akane has a goofy personality. She is a fun-loving girl with a fondness for comedy and parties. She loves to make others smile, and likes to throw parties when something good happens. Though she is typically one of the nicer guppies, she has a violent temper and is vicious, especially on April Fools Day. On this day, she is more aggressive and her pranks are quite dangerous. Akane always has a positive and cheerful attitude.
Trivia
[
]
She resembles Deema, except she doesn't wear earrings.
Her favorite food is cake. Any kind is okay with her!
Her twin is Blaine. They get along quite well.
She is named after the color red.