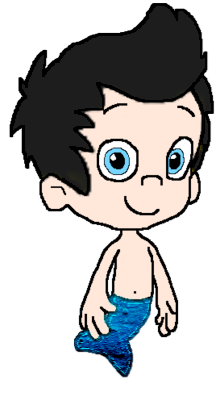 Basic Information
Edit
Andy is a brainy boy guppy, and that is why people like to hang with him. He's not as energetic as Gil, and he's more likely to comment on the action than get swept up in it, often using an advanced vocabulary for his age. Physical activities make Andy encouraged, so he'd rather play "hot shots" than play olympic games. Even so, he has a persevering spirit. His willingness to keep trying, combined with encouragement from his friends, often leads him to triumph in the end. Andy's favorite things to do are reading books at a library, and go to school.
Andy has tan skin, spiky gray hair, and brown eyes. His tail has a blue urban.
Andy and Hannah were both adopted.
He rarely smiles.
Andy is one of the guppies who wear a blue urban tail.
Community content is available under
CC-BY-SA
unless otherwise noted.