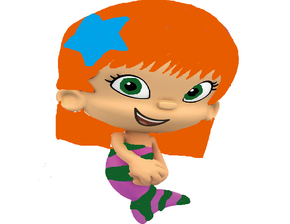 Anya Pirruccello
Have an image of this character?
Then please upload it!
Name
Anya Pirruccello
A/K/A
Wee Anee
Age
4
Dislikes
Lack of attention, being away from her family
Gender
Female
Favorite Thing to Do
Color, get attention from her parents
Character info

Her name is Anya Pirruccello. She is Oona and Nonny's future daughter. She is a very cute little girl. She is the younger sister of Xavier-Issac-Joseph. Like Susanna, she's a little daddy's girl but loves her mom just as much. She often tries to be the center of attention, much to her brother's annoyance.
Looks
Like her mom, she has yellowish skin, almond shaped eyes, and a full body tail. Like her  dad, she has orange hair and green eyes. She also has a sky blue starfish hairclip.
Personality
She is mostly like her mom; kind, empathetic, and sweet. She is also surprisingly very talkative. She's also a bit of an attention hog. There are times when she ends up crying, but she feels better when her brother tries to comfort her.
Relatives
Oona - Mom
Nonny - Dad
Jimberly - Aunt
Mr. and Mrs. Shaksan -  Grandparents
Mrs. and Mr. Pirruccello - Grandparents