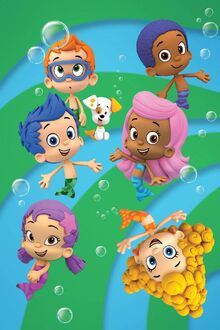 Bubble Guppies Season 5 is a new series after season 4. On Instagram, Brianna Gentilella had made an Annocement saying: "Bubble Guppies was the best show I ever did. Voicing Molly and her singing voice gave me many memories in the studio. Now, I talked with Nickelodeon about them. Nick jr. Had agreed to bring us back." Seems that Nick jr. Misses the musical 6 kids as well. The voice actors had signed a contract of voicing the same characters. As moving on to season 6, there will be new voices.
Voice Actors
Edit
Bailey Gambertogolio: Speaking Voice Of Molly
Brianna Gentiella: Singing Voice Of Molly
Jay Gragnani: Singing/Speaking Voice Of Gil
Issac Ryan Brown: Singing/Speaking Voice Of Goby
Grace Kaufman: Singing/Speaking Voice Of Deema
Tori Feinstein: Singing/Speaking Voice Of Oona
Jet Jurgensmeyer: Singing/Speaking Voice Of Nonny
Coco Grayson: Voice of Zooli
Zachary Gordon: Singing/Speaking Voice Of Zach
Britt McKillip: Singing/Speaking Voice Of Leah
Season 5 Has 15 Episode
Episode 1: The New Guppy 09/27/19
Episode 2: Secret Agent Nonny 10/14/19
Episode 3: The Kingdom of Clean 11/01/19
Episode 4: The Good, The Sad, and The Grumpy! 11/22/19
Episode 5: Ocean Patrol 01/03/20
Episode 6: Rockin' Out 01/17/20
Episode 7: Genie in a Bubble 02/14/20
Episode 8: A Furry Tale 03/06/20
Episode 9: Super Baby 04/10/20
Episode 10: Dragons N' Roses 05/29/20
Episode 11: Ninja Season 06/19/20
Episode 12: Snow Squad To The Rescue 07/03/20
Episode 13: Too Bright For Movie Night 08/14/20
Episode 14: The Great Guppy Games! 09/04/20
Episode 15: Guppy ghrage 11/20/20
Community content is available under
CC-BY-SA
unless otherwise noted.