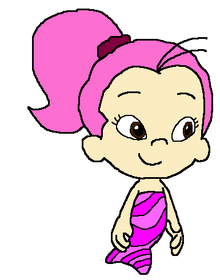 Fuchsia
Have an image of this character?
Then please upload it!
Name
Fuchsia
A/K/A
The Quiet Girl
Age
5
Dislikes
Being teased, not being with her friends, going out by herself, getting lost, arugments
Gender
Females
Favorite Thing to Do
Caring for animals, looking at flowers, drawing, painting
Voice Actor
Reyna Shaskan
Character Info
[
]
Her name is Fuchsia. Her best friends are Akane and Saffron. Her main love interest is Odran. Her color is pink.
Looks
[
]
Her eyes are chocolate brown and her skin is light tan. Her hair is pink; it is tied into a large ponytail, held by a dark magenta scrunchie. She has two short protruding strands sticking upward from her forehead. She has a one-piece pink tail, streaked with thick wavy light pink stripes. Fuchsia has a bigger body than the other guppies.
Personality
[
]
Fuchsia is a sweet and sensitive little girl. She doesn't see a point in fighting/arguing and does not take part of it, even if it's about her. Alithough she's called "The Quiet Girl", she is able to speak openly about her ideas and opinions, but only does when she needs/wants to. While she's not shy, she is able to speak to a stranger or ask them questions when she doesn't understand something or needs help finding something.
Trivia
[
]
She is named after the color pink.
Her favorite food is sushi.