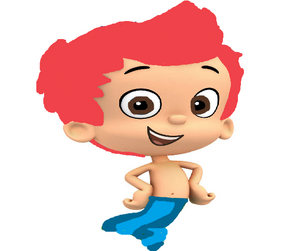 Gabriel Gentilella
Have an image of this character?
Then please upload it!
Name
Gabriel Gentilella
A/K/A
Baby Gabe

Molly's little boy

Age
4
Dislikes
When his mom is mad at him
Gender
Male
Favorite Thing to Do
Pleasing his mom
Character Info

His name is Gabriel Gentilella. He is Molly and Gil's future son. He is a mama's boy and has the same laugh and scream as his dad. He is the younger brother of Susanna.
Looks
Like his dad, he has light peach skin and spiky hair. Like his mom, he has brown eyes and a blue tail. The only thing that isn't like his mom or dad is his light red hair color.
Personality
He is alot like his mom. He is kind and will help his friends. His singing voice really isn't that good, but his parents love him either way. He often competes with Susanna for his mom's attention.
Relatives
Molly - Mother
Gil - Father
Susanna - Older sister
Tobias - Uncle
Mr. and Mrs. Gordon - Grandparents
Mr. and Mrs. Gentilella - Grandparents