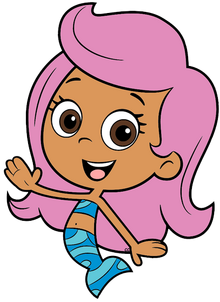 Molly Is The Natural Born Leader of The Bubble Guppies New Series 2017. Molly Now Sings As a Solo Artist and She Sings Every Single Song In The Series. The Rest Of The Guppies Sings Dialouge And Back-Up. Her Looks Are Pink Hair, Blue Bikini, Blue Tail, And Brown Eyes. Molly's New Voice Actor Is Ariana Grande.
Facts
Her Little Sister, Mia, Is Now A Toddler.
Molly Is 5 Years Old.
Molly Has A New Microphone, Blue & Aquamarine.