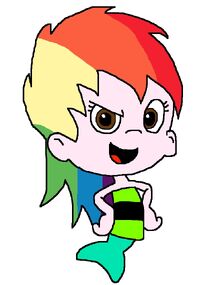 Character Info
[
]
Her name is Rainbow Flavor, or just RF. She likes Lolipop, Cinnamon, Sugar, Caramel, and Lemon. Her love interest is Cotton Puffy. She's 10 and is a legendary Bubble Guppy. She is voiced by Cree Summer.
Looks
[
]
Guppy form
[
]
Rainbow Flavor has rose white skin, rainbow hair, brown eyes, teal-colored tail, and a lime green dress with a black belt.
Humanoid form
[
]
She looks the same.
Personality
[
]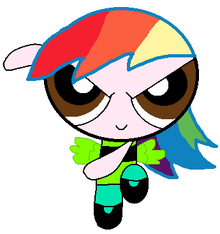 Rainbow Flavor is cheerful, clumsy, and a bit tomboyish. She's a bit cross-eyed. She is adventurous, brave, and likes to have fun, but has a few hidden fears. Rainbow Flavor can also be a bit goofy and silly. Though selfish and arrogant, she has a kind heart and always there for someone when they need her. She's shown to like rock and roll. She gets better.
Voice Actor
[
]
Trivia
[
]
Her Sweetie Mark is rainbow flavor crystals.
She is based on Rainbow Dash and Derpy from My Little Pony: Friendship Is Magic.