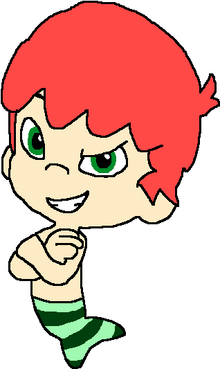 Character Info
Ray Rocha is a wild and energetic male guppy, and that is why people like to hang with him. His best friends are Gil, Nonny, and Goby. He's a musical genius - if he sees drums, he has to play it; if he finds an electric guitar, he has to rock out; and if there's a violin around, you can be sure he'll be playing some beautiful tunes. Ray's upbeat energy and insatiable curiosity are infectious, so he's great at encouraging others to join in on his adventures. You can be sure he'll deliver some great tunes along the way.
Looks
Ray has light yellowish skin, almond-shaped green eyes, messy red hair, and a green tail with dark green stripes.
Relatives
Edit
Community content is available under
CC-BY-SA
unless otherwise noted.